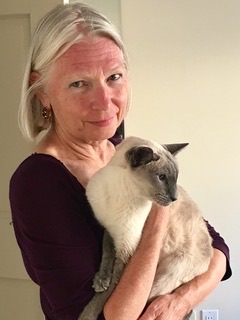 A Teacher Named 'Covid' with Susan McCutcheon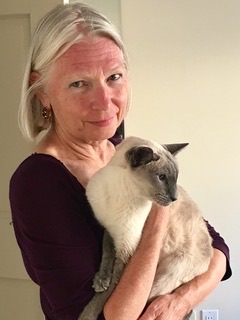 My journey with the teacher named 'covid' began with odd symptoms that I did not connect and so for a couple of days worsened until the telltale cough put the lights on and my doctor sent me for a test. Soon I had night sweats, fever, nausea, diarrhoea, body aches, a ferocious headache upon waking in the morning and pain under my shoulders, and I couldn't stay awake all day. My first reaction was denial quickly followed by waves of panic. My body has a history of over-reaction to virus and I was being very careful not catch covid. In my Centering Prayer sit that day I decide to explore the fear. Is it fear of dying, fear of illness, fear of dealing with this living alone? Going deeper I think of wisdom school teachings around kenotic release and that we practice this 'letting go' and I find myself doing the physical hand gesture. 
It seems important to enumerate trust and in the trusting of so much I can list in my life—including my family doctor and the wonderful Canadian health care system—I find positive energy. I ask for help and support from my angelic realm companions. I am wondering if the structure of CP and kenotic praxis can be a container holding me. My faith feels like a path of Light forward. I want to try to release, get beyond, the waves of fear. I think of the women's retreat I went to many years ago when, working with egoic self, we enacted Inanna's journey into the underworld. Seven circles of descent releasing all material things, people, relationships, clothing, status affiliations until one is standing essentially egoically naked; totally kenotically—I think—surrendered. The little children who strip themselves in the owner's field in the Gospel of Thomas logion 21 come clearly to mind. I think of the things I am, in this moment, called upon to release one by one and then I do it. I—just—let—go. What happens then is an immense release of energy. I find myself floating. It feels like I've untethered and am flooded with the sensation of being held, upheld by something powerful. It is such a huge relief. I feel buoyant, like a leaf in a stream carried along but in a different level of reality; more in kairos than chronos time. And the fear is completely gone. 
As my symptoms worsen and I start to feel my breathing constrained, it is hard to walk upstairs or have short conversations without becoming breathless; I have had to leave the comfort of kairos time to deal with the practical. Legal documents need updating, a new Power of Attorny (POA) for healthcare put in place. I spend part of the first few days dividing my time between chronos practical territory doing paperwork, and taking every opportunity when there is no fever and the headache lessens also to write and to think. I cannot write when I have a fever or my head hurts. I am aware I have things I want to say. I am also aware I need to spend a lot of time in kairos mode just to keep the fear at bay…
A kind loving friend writes to me, "you must fight hard", and I realize I don't see this as a battle. Kenosis surrendering is not about 'giving up' but going deeper and trusting the process. I feel the golden threads of my soul are completely interwoven with, contained, and held in some great plan unknown to me—but solid and sure because I am anchored high on the vertical column. I know in every cell of my being that all shall be well. My reference point for wellness has become my alignment with the divine. I think of a healing touch retreat in which we explored the themes of curing versus healing. 
I feel suddenly back in Assisi alongside the frescos I love and into whose energetic and wisdom depths I have often slipped, and knowing that the sacred figures as they are pictured there, in some way, are with me now. I am surrounded by Light, by healing figures—some in Light bodies, some in material form. I am safe because of all of them and I am being held by this Light. I do not have to fight. I have to stay connected—alignment is my most important task. In this frame I have no idea of what is going to happen but I absolutely do not doubt all shall be well. I hear Mother Julian and remember the time spent at her shrine; her voice in the cell that day with Alison… 'all shall be well and all manner of things shall be well' and think: ah-ha maybe this is what she meant by the term 'well'. I think how wonderful to have a life filled with such bright wise teaching.
Acknowledging that I don't know what this part of the journey will be like, my job is to stay present, trusting I will be guided and supported. 
After the realities of dealing with legal and POA decisions and self-care are done, I spend my time in this other spacious reality. Kenotic release has over the days (now 7) become easier than breathing.
I feel physically in the grip of unpleasant symptoms and I cannot take a deep breath which at times unnerves me, but at other levels—when I slip out of linear—I am light and filled with gratitude. What a paradox, I think, that as my illness worsens, my sense of well-being and gratitude increases. I am swamped, suffused in gratitude, sweetness and a sense of peace. Loving messages and Healing Touch energies being sent by my HT group at Christchurch Cathedral fill my body and my days. The headache on awakening is usually gone by mid-morning thanks to their morning work and I sleep fairly well at night thanks to their evening treatments of distance healing. Somehow in spite of symptoms, I know that I am well and whole. On Thursday the tightness in my chest gets worse and within hours I am straining for breath even when resting. My family doctor tells me to go to emergency and that he will call ahead.
It is a new threshold. I think, "When I walk into Vancouver General Hospital, I will be alone." It feels immense and panic returns. WHAT DO I NEED. I walk around my house—some practical things in the bag, Ginger my monkey, and holy oil and eucalyptus. Then I remember Inanna going deeper into the underworld—stripping the material world away. I think what does anyone need at the portal? Wisdom teaching anchors me and I think:  all I need is love. But I feel torn between the worlds of matter and spirit. I want to visit the memories of the material realm in my home. The memories of my late husband, my sacred home altar where I light the evening candles, my knitting projects in progress, the box of baby things knitted for my new baby god-grandson about to be born in the UK, not quite ready to mail. I struggle with material and non-material needs. It is true, if I am going to step through the portal and touch the face of God, all I need is love and support of my angelic team—and that I know I have—but I also feel the need to acknowledge the blessing of these material things or at least the relationships and experiences and meaning they hold for me in my day to day life. Stubbornly I think:  I want my laptop. I feel determined as long as my brain is alive and not pounding with pain I am writing. I think I will write until the last moment. I wonder: is this my ego—my identity asserting herself or is there still something I need to say to others to leave for others. Indulgence versus obligation?
I am aware I have been procrastinating about writing to Vancouver School of Theology to express my gratitude for my spacious study experience and the support I have received there to make sense of Assisi. They don't have any idea how important being there has been for me. Later, I write in bed in the emergency room. I am comforted by the description of my life with the frescos, my intention in 2012 to stay with the experience until I understood what to do with it. Cynthia Bourgeault has been helping me to understand the powerful experiences I have been having with my sisters at Santa Chiara. In writing to VST, I realize I have also been writing to myself, reminding myself of my journey, of the power of it. In the intensity of the present moment, I am beginning to see the immense achievement of my work from the first time I walked into Santa Chiara for vespers and saw the frescos. Process and clarity are happening at warp speed and yet at another level of my being, paradoxically, in kairos, I feel very slowed down.
As I walk into emergency I feel alone—only my sister who has been alerted as my medical POA and my family doctor know I am here. Francis' journey with the lepers in Assisi comes into my mind: the reality of being an untouchable—ill and needing care but a danger to others. I ring my bell as I arrive—wearing a mask, keeping my distance and saying to others, "I have covid—please keep your distance." This is a totally different way to be ill. For a kinaesthetic person whose primary interactions with her world are touch, it feels very isolating. 
Thankfully, after investigations, imaging, and blood work, I did not need to be admitted longer term to hospital. In spite of the rigidity of my chest wall and acute breathlessness, my lungs were and remained in good shape. Two weeks later most of the symptoms—except fatigue—had disappeared. Like many life challenges, this illness has been a wonderful spiritual exercise; an opportunity to live what we say we believe about the value of kenosis, our CP praxis and my visceral sense of connection with God my divine mother. I am deeply grateful for many things and particularly for the wisdom and healing groups and communities that populate my life. My experience of illness and healing were different, were immeasurably transformed by the interior resources I have learned as a practitioner and as a recipient of the network of love and spiritual care of community.                
Grazie a Dio!
https://www.contemplative.org/wp-content/uploads/2020/06/Susan-and-Dustin.jpg
320
240
TCS Administrator
https://www.contemplative.org/wp-content/uploads/2021/09/logo-new-2021.png
TCS Administrator
2020-06-17 11:20:42
2021-09-30 09:27:46
A Teacher Named 'Covid' with Susan McCutcheon